Stingray 3-Person Tree Tent
The Tentsile Stingray 3-Person Tree Tent is our critically aclaimed flagship design. Able to accommodate 3 adults (or a young family of 4) and their gear, in absolute comfort.
Stingray Classic Stack
The Stingray Classic Stack increases sleeping capacity from 3 to 6 adults (or 4 adults and 4 kids).
Stingray Ground Stack
The Ground Stack, creates a protected room under your Tree Tent for use as a living room, or gear storage area
Trillium XL 6-Person Camping Hammock
The Trillium XL 6-Person Camping Hammock is one of the worlds largest hammocks. Big and strong enough for 6 adults to lounge in comfort. The hammock offers cloud-comfort and can be used just as easily in the wild as it can in the backyard. Beware of imitations.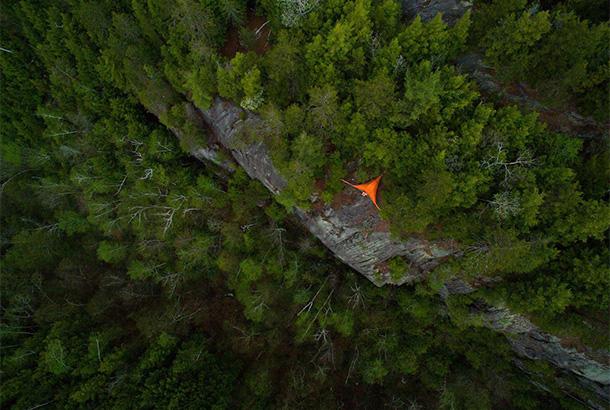 WHY WE'RE HERE
We are here to help save the world's forests. Our hope is that Tentsile can act as an inspiration to all those that love the great outdoors and that have an interest in preserving a healthy and bio-diverse earth.

We strive to create a sustainable business model that attempts to highlight the environmental impact and dangers of the continued deforestation of our last old growth habitats.

As part of our commitment to helping the planet, we donate 1% of our revenue to the 1% for the planet charity. We also partner with Leave No Trace, Eden Project and WeForest to plant 20 trees for every Tree Tent and Camping Hammock we sell.
So well designed are our products in fact, that they have received critical acclaim from some of the most reputable reviewers in the world – with gear editors, testers and reviewers from the likes of Outside Magazine, Backpacker, Men's Journal, Gear Junkie and countless others putting our Tree Tents through their paces. Each time we've had stellar reviews, and thousands more from our customers to back them up – testifying to the incredible build quality, durability, and strength of our range.
 Our success however, has drawn attention of the sharks out there who have started to flood the market with a kaleidoscope of copy-cat and counterfeit products. These are pretty easy to spot, as they often offer prices that seem too good to be true… and they are.
We often get asked why Tree Planting is such an integral part of our business at Tentsile. There are hundreds of corporates planting trees now after all, as part of carbon offsetting initiatives which go some way to counterbalancing a company's carbon footprint and environmental impact. So why is it so central to our values?
Becoming less dependent on plastic is definitely a journey we're all on, especially here at Tentsile too. And we're certainly not there yet, there's still so much more to do. Last year we stopped using any single-use plastic in our factory and instructed all our suppliers not to use plastic packaging in the transportation of our materials. Find out more about the steps we've taken, and why we are so committed to eradicating single use plastics once and for all. 
Contact Us
We love hearing from our customers, whether it's just for a chat or to help provide you with support and advice. 
For customer support & returns - support@tentsile.com
To arrange a repair - repairs@tentsile.com
For wholesale and campsite enquires - sales@tentsile.com
USA: +1 844 872 4296 
UK & EU: +44 (0)7883 100 857